"We are very glad to have met such a wonderful family"
Oksana, Vasyl and their two children, Alexei (13) and Solomiya (11) have been hosted by Kathy and Michael in their home in Richmond and are full of gratitude to their hosts and the Refugees at Home community.
Around the table in their vibrant, flower-filled garden, Oksana pulls out her phone on which she's written a long message expressing her gratitude to Refugees at Home and to Kathy and Michael.
The family are originally from Ivano-Frankivsk in Western Ukraine, at the foot of the Carpathian Mountains. From Oksana's description, it sounds like the rural idyll. Their bungalow is right next door to Oksana's parents' house and they have a large garden filled with apple trees. Oksana says it's "very beautiful, with very clear air" and describes their lifestyle of bike riding, visiting friends and going down to the river.
But as Oksana speaks of the war, and the worry she has for her relatives back home in Ukraine, her eyes fill with tears.
Vasyl, a builder, and Oksana, a seamstress for Vivienne Westwood, originally moved to London in 2019.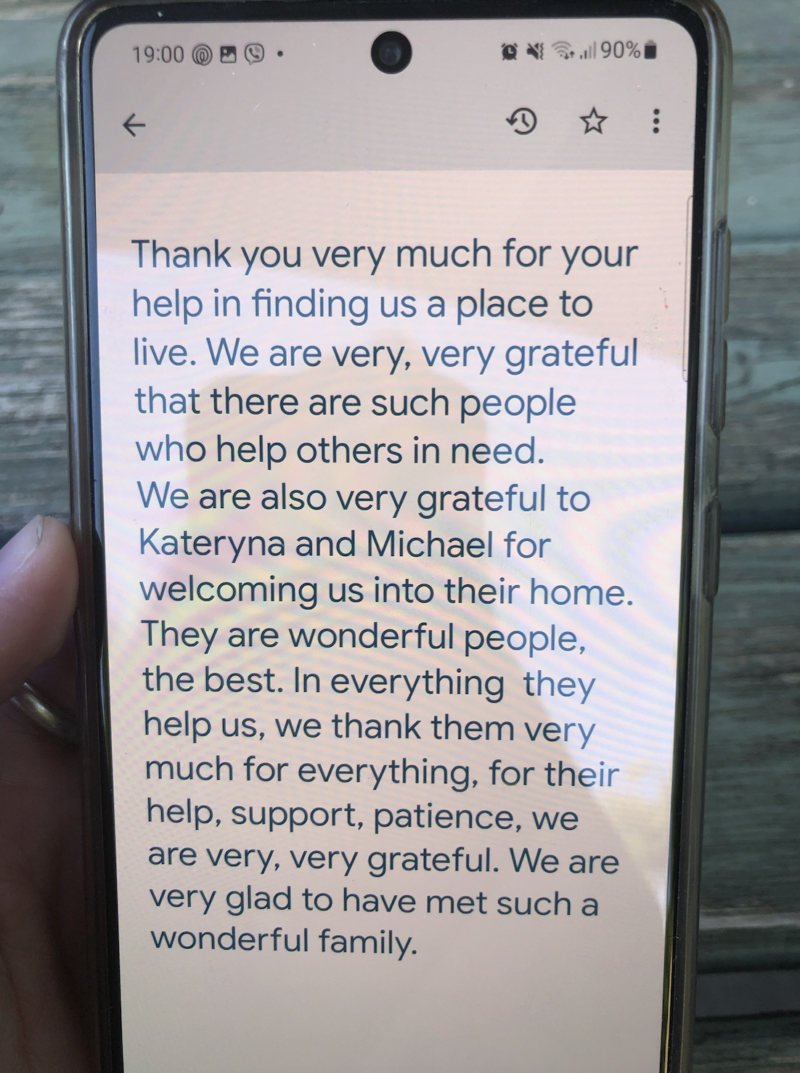 Oksana's heartfelt message of thanks. "They are wonderful people, the best."
When war broke out, they went back to Ukraine to collect Alexei and Solomiya and brought them to the UK. Without enough space for all of them in Vasyl and Oksana's flat, they reached out to Refugees at Home, who paired them with Kathy and Michael.
For Kathy and Michael, whose youngest child has just left for university, it made sense to offer up their spare rooms. "If we're going to have all these rooms, we've got to have someone live in them", says Kathy.
Communicating can be a challenge, which Kathy says forces them to often rely on Google Translate and the exchanging of phones. "Michael and I tried learning a bit of Ukrainian", Kathy says. They try counting to three with some help from Oksana, to which Kathy jokingly exclaims, "so we're obviously doing really, really well!".
But there have been plenty of highlights of the two families sharing a home. "Oksana is a brilliant cook", say Kathy and Michael, who pinpoint some of their favourite Ukrainian dishes such as coleslaw with dill and pilaf, a rice dish, that they've tried during Sunday lunches altogether.
For Kathy, one special moment was watching the Eurovision song contest with Oksana and Solomiya, which she retells with the forewarning that she might cry. As the public votes came in to secure Ukraine's victory, Kathy describes Solomiya leaping off the sofa in celebration.
"It was just a lovely moment. It felt as if there was all this support', says Kathy.