The Russian activist seeking a new life in London
Diana is seeking asylum from Russia, where she is known as a political activist.  She fled Moscow two years ago, having spent years protesting Putin's regime and in danger of being sent to prison, and is now staying with host Miranda.
Diana's journey from Russia to London did not go to plan. To get away, she had driven through a forest into Byelorussia where she was put in touch with a 'fixer' who laid out the plans for her journey to the UK and arranged to meet her when she got to London.  But when she landed in April there was no fixer there to greet her. Instead, she found herself in the airport's immigration office, tears streaming down her face, where she was interviewed and then waited close to 10 hours before ending up in a 'hotel' for asylum seekers in Ealing.
After initially reeling from the trauma of the journey, Diana regained her strength and spent the following 12 months learning English, navigating the British immigration system, applying to a Data Science masters program, and settling into a home for asylum seekers in Basildon.  She was awarded a scholarship at Birkbeck, University of London to pursue her masters degree starting in September 2022.  Although this was good news, it meant that Diana needed to find a place to live that was closer to university. It was at this point a friend of Diana's suggested she contact Refugees at Home (R@H).
A case of 'why not?'
While Diana was securing her scholarship at Birkbeck, London-based  post-production producer Miranda Jones was bidding farewell to her first R@H guest, Abdu from Libya, and getting ready to take in a new guest.
Miranda initially stumbled upon the idea of housing refugees in early 2021 after hearing comedian Natasia Dimitriou do a bit about her crazy parents housing a refugee in their attic. She thought "hmmm…this must be a thing," did a google search, and found Refugees at Home.  "It sounded interesting to me," Miranda states. "I lived alone with my cat, have a spare room, and have often had paying lodgers. Why not give this a go? Actually it was more of a case of why not?"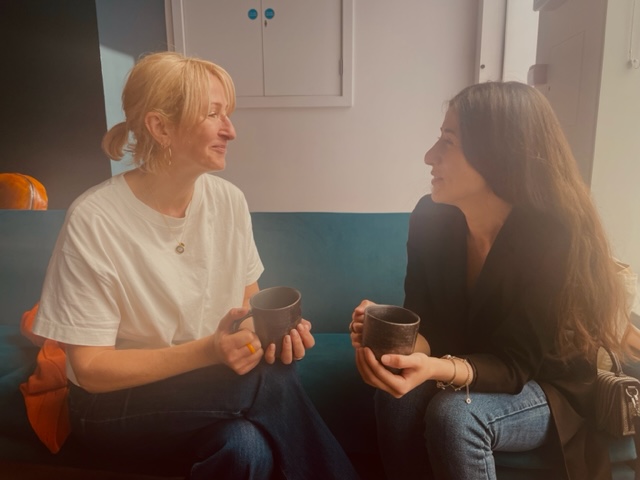 Host Miranda with Diana at her offices in London. Miranda says of hosting, "You learn about other people and their situations, their countries. It's such an interesting experience and widens your horizons."
Like an angel from heaven
Diana likes everything about living with Miranda. "She is a role model for me. Miranda inspires me to find harmony in myself. I want to be like her. She is an angel from heaven."  While Miranda doesn't have any children of her own, her nickname at work is "Mom" because "I easily dispense advice," she says with a chuckle.  Miranda would encourage Diana to get out of bed and go for walks when she was suffering from depression. Diana would see that "Miranda isn't bossy. She just really cares."
Miranda and Diana each lead busy lives and function as highly compatible roommates. There is genuine and obvious mutual respect and affection.  There are some basic house rules that they each adhere to such as communicating when they are going to be home. Also, Miranda has her home to herself on Saturdays while Diana is at her Home Office home or out studying. And, Diana catsits Ruby when Miranda is out of town, which works out well for both of them.
Everyone should experience being a host
Miranda feels strongly that anyone should give hosting a try. "You learn about other people and their situations, their countries. It's such an interesting experience and widens your horizons."  'Mum Miranda' isn't shy about offering advice to prospective hosts – "Give your guests their own space. When they arrive, don't ask too many questions initially; Have your own ground rules and be clear about what your guest can and cannot do. Finally, things change and be flexible. And, remember that these people are just you or me in a different situation."  
Miranda has been very appreciative of R@H's help and support. "An R@H person is assigned to you and your guest and they look after you. From the start, they continually ask you if you want to carry on. There is no obligation and they never put you in a position to feel bad if you can't continue." She continues, "They are also very good at communications". She likes the newsletter and feeling connected to the host community in West London where she lives
Remaining hopeful
Things haven't been plain sailing for Diana.  The Home Office rejected her initial asylum application and she has recently split up with her partner. Because she cannot work, her prospects for now are limited.  But she is working on an appeal with her government-funded solicitor and remains cautiously optimistic and realistic. She has good friends from university and has developed a life for herself in London.
"My hands are tied, but I can only try my best."