Linguistics Professor Olena Finds Refuge in Glasgow
Olena, a linguistics professor from Kharkiv, is hosted by Dale and Lisa in Glasgow. The three friends describe their hosting journey – and Olena's terrifying experience being forced to seek refuge not once, but twice.
On New Year's Day 2023, Olena, an, energetic 55-year old linguistics professor, arrived in Glasgow from Kharkiv, leaving her husband Simon, her 30-year old daughter Alexa and beloved cat Shere-Khan behind.
Sadly, this was not Olena's first experience as a refugee. Olena's family hails from the Donetsk region of Ukraine and they "fled their home, garden, books, and clothing" when the war with Russia began in 2014.  "We were penniless, jobless, and in a strange city," she recalls about their arrival in Kharkiv nine years ago. "We were lost and confused."  Given their professional backgrounds they soon found jobs – Olena as a linguistics professor teaching English to Ukrainian students at the Ukrainian Engineering Pedagogics Academy and Simon found an engineering job at a big plant.
In a war zone for the second time in a decade, Olena and Simon knew they couldn't wait for the conflict to end. After the invasion in late February, they started planning.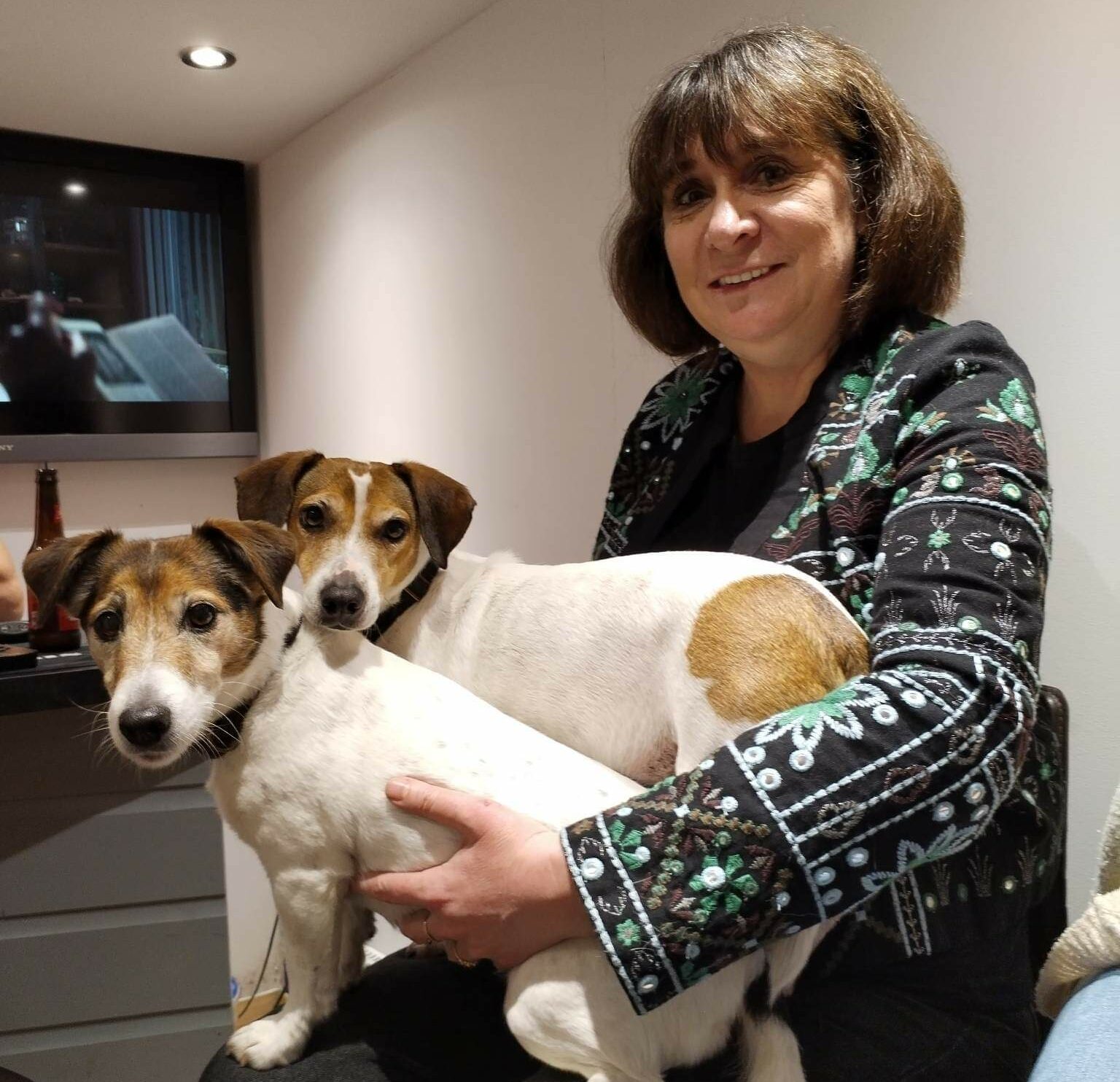 "If you can work, you should work in the country that accepts you, so you can contribute" – Olena
Russia attacked Kharkiv early on in the war and electricity, power, and food were in short supply.  But before leaving Ukraine with her daughter Alexa, Olena wanted to finish her academic year and to confirm that her cat could join them.  Simon and Alexa's boyfriend both needed to stay in Ukraine due to professional and military obligations.  In May, Olena and Alexa began their six-day journey to western Ukraine and then on to Moldova. After a short stay in Moldova, they decided to move on to Berlin where Alexa uses her proficiency in German and works in the hospitality industry.
Throughout the spring and summer, while preparing for her departure and while working, Olena was looking for jobs in other countries. She feels strongly that "If you can work, you should work in the country that accepts you, so you can contribute."  She applied for a fellowship through the Council for At-Risk Academics (CARA) and ultimately found the best opportunity at the University of Glasgow where she started a 2-year fellowship in early February 2023.
Dale and Lisa
Meanwhile, in the village of Kilbarchan outside of Glasgow, Dale and Lisa were keen to offer their support.  "Lisa and I are like chalk and cheese most of the time," chuckles Dale, "but I didn't need to get dragged into this decision." The couple was shocked and saddened by what they had been hearing on the news and quickly applied to host when they learned about the government's Homes for Ukraine scheme – "we could do this, so why not?" While they were waiting they researched a variety of charities and other services. "Facebook had turned into Tinder for matching refugees and hosts," said Dale, and they wanted to partner with an organisation they could trust and rely upon to guide them through this process.
Beer, Chocolate, and Conversation
"We hit it off at once. I feel at home with Lisa and Dale," recalls Olena. "I'm staying with best friends. We have a lot in common. They pamper me," she beams. Together, the trio have walked the couple's two dogs, traveled through the countryside and the seaside, explored museums and galleries, and socialised together with Lisa and Dale's friends.  They enjoy cooking and sitting down to meals together. "The dining room table where a laptop once sat is now a true dining table where we share food, wine, beer, chocolate, and conversation," Dale explains.
As hardworking professionals Lisa, Dale, and Olena share a similar outlook, a love of animals (Olena's cat is safely in Berlin with her daughter Alexa) and have learned a lot from each other. "It has been enriching," says Lisa. "We have learned a lot about Ukrainian food and culture.  We even started watching the comedy series that Zelensky starred in."  The Scottish-based couple has also gained a tremendous sense of gratitude. "We are very lucky to live in the UK. Understanding Olena's experience helps put things in perspective."
For the Right Reasons
Refugees at Home is always checking in. And we know that we can reach out at any time and they would be there to help.
When asked to offer advice to prospective hosts, Lisa and Dale believe it's important that everyone in the house is on the same page and committed to the decision to house a refugee, a view reinforced by Refugees at Home.  They say, "Make sure that you are doing this for the right reasons"  and advise patience as it may take a while for everything to come together.  In working with R@H they never felt any pressure, only support. They continue to feel supported by R@H. "Refugees at Home is always checking in. And we know that we can reach out at any time and they would be there to help."
As for the future, Olena knows far too well that it's hard to make long term plans. Her husband will need to stay in Ukraine for at least another year. Hopefully, he can visit Olena in the near future and meet her new best friends. And Lisa and Dale are in no rush for Olena to leave. "She has a lot of decisions to make. We will support her as she gets on her own two feet."