Globetrotting rachel and declan have hosted guests from five countries
After six years of travelling the world in their van, Rachel and Declan weren't used to the space of a house. The solution? To host with Refugees at Home.  
Rachel and Declan are no strangers to hosting; in the last year, the self-proclaimed 'laissez-faire' couple have hosted five different guests from five different countries. 
Recounting their first hosting experience, Declan shares, "we were curious because we've not done anything like this before and you wonder what to expect." But they both speak fondly of their past guests and have stayed in touch with them all.  
In fact, Rachel and Declan are getting ready to go out for a meal to celebrate their first guest, A, from Syria, passing his IT exams. "With a distinction", they both add proudly. Since A, they've hosted K from Sudan, T from Ethiopia, A from Eritrea and finally, T from Bangladesh.   
"There's so much publicity about Ukrainian refugees, which is brilliant, but we wanted to make sure we left a room open for people fleeing other conflicts around the world also", Rachel says.  
It's clear how much Rachel and Declan care about their guests. They say one of the greatest challenges of hosting has been trying to remind their guests to make themselves at home. Declan says, "as far as we're concerned, if you're in the house, you're part of it and you have the run of the house". "I get to the point where I'm like, relax on the sofa, watch TV, put your feet up!", Rachel continues.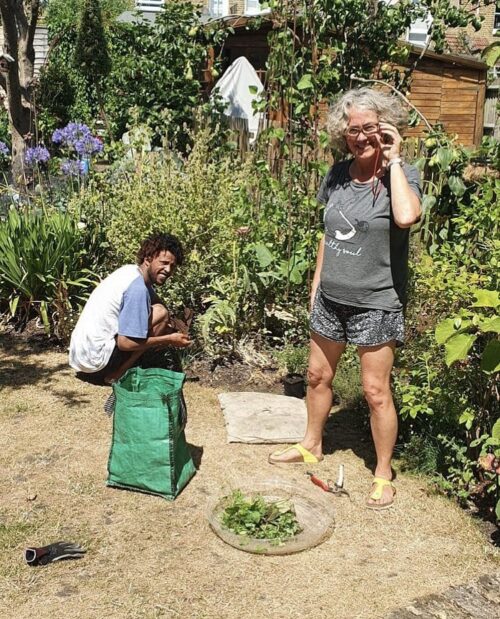 Rachel's beloved garden has been a natural link with some of their guests, who've happily spent hours outside with her, helping grow vegetables
But they're both acutely aware of the stress of settling into a stranger's home and have done everything they can to make their guests comfortable, from helping them navigate through London to knitting them hats during the winter.  
"We always try to make sure there's a fresh cake when they arrive", Rachel says, with Declan quickly adding, "no thanks to me!" 
Rachel's beloved garden has been a natural link with some of their guests, who've happily spent hours outside with Rachel helping her grow vegetables like leeks and cabbages. "If Rachel was out there by herself, they'd be running out there to join her", Declan proclaims.  
Declan says he encourages people to try hosting. "They're all lovely people walking through that door", he says, concluding that the experience has been brilliant, but most of all, good fun.