Celebrating Ukrainian independence day
Refugees at Home host Alban and his guest, Dmytro are celebrating Ukrainian Independence Day at Alban's flat in Wimbledon. The Ukrainian flag hangs proudly out of the window as the two express gleeful proclamations of "Slava Ukraini!" – the Ukrainian official salute.
Dmytro hails from the Luhansk region but moved to Kyiv over ten years ago. After leaving Ukraine in February, he spent time in Turkey and Poland before arriving in London. As an entrepreneur in marketing and tech, Dmytro says, "I understood that the most effective way for me to help my country is in volunteering informationally."
Despite being over a thousand miles away, Dmytro says, "I feel in some ways even more connected to Ukraine. I can help by talking about Ukraine and help form stronger relationships between our countries."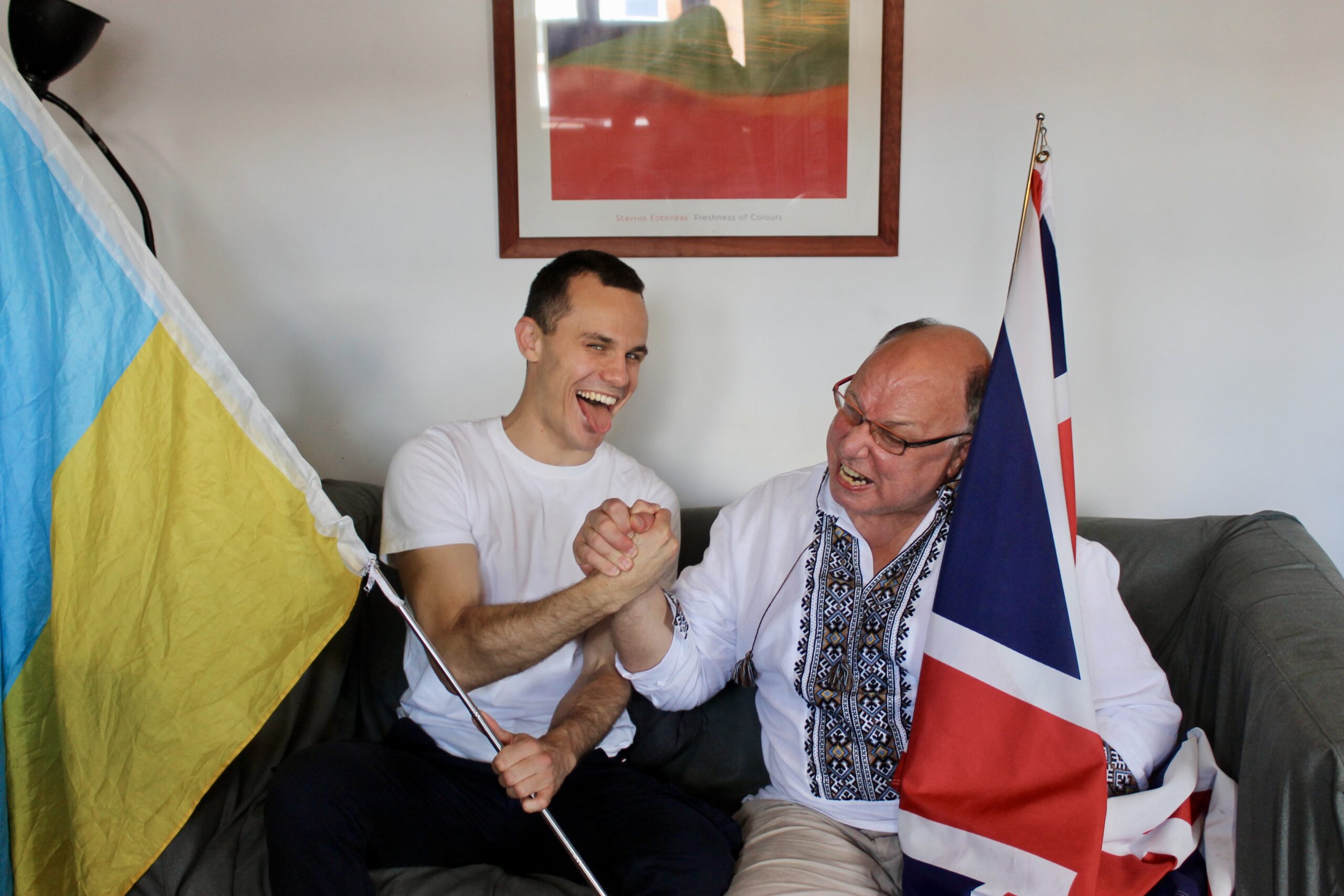 Alban and Dmytro celebrating Independence Day 2022 at Alban's flat in Wimbledon. "Slava Ukraini!"
Dmytro has a weekly call to touch base with his Grandparents, who are still in the Luhansk region, his uncle, who is fighting in the army, and his parents in Warsaw. "After the war began, Ukrainians became closer, more interconnected and in our family, we feel it. We talk and support each other more", he explains.
The flat feels like a true celebration of merging cultures as Alban brings out strawberries and cream and Dmytro offers up a bowl of Ukrainian sweets. Dmytro points out that Alban is wearing Vyshyvanka, a traditional Ukrainian embroidered shirt, sent to Alban as a gift from Dmytro's mother.
Although, Dmytro's attempts to introduce Alban to Ukrainian culture haven't always gone to plan. "I once cooked Alban syrniki – a traditional Ukrainian dish – but I'm a terrible cook", Dmytro admits as he expresses his hope that his mother can come and make it properly.
Dmytro and Alban's sarcastic and playful repartee quickly gives away the close bond they share. It would be easy to assume they'd known each-other for years. Humour is at the centre of their friendship, which Dmytro believes is a cultural similarity between Ukrainians and Brits. "Sarcasm and irony has helped Ukrainians during these hard times and the British people have that also", Dmytro says.
It just so happens that Dmytro and Alban share an encyclopedic knowledge of British comedy, discovering their mutual love for Dylan Moran in the pub on the first evening they met. They've since been to see him live at the Apollo.
In fact, they've engaged in a litany of activities together since Dmytro moved in. From watching the tennis at Wimbledon to Thursday night theatre nights to catching Top Gun 2 at the cinema. And of course, visiting a selection of Alban's favourite pubs to watch Spurs. (Alban informs me that part of his inspiration to host was hearing that Gary Linekar had done so.) Although Dmytro hasn't had any luck convincing Alban to join his yoga community.
"Dmytro has been fantastic to live with", Alban says. "I've lived in this place on my own for almost two decades and I was utterly terrified about sharing it."
"I fell in love with the UK. In my experience, the people I've met here are great", says Dmytro.
Dytro has been fantastic to live with", Alban says. "I've lived in this place on my own for almost two decades and I was utterly terrified about sharing it."  But it's clear this meeting of minds has been a brilliant experience for them both.
And it wouldn't be a true celebration without a toast with the Ukrainian cheers, "budmo!", which translates to 'let us be', a fitting nod to the solidarity and resilience at the core of Ukrainian culture, that is so vital to celebrate as the war continues.